Site map
Current position:
Home
> Products >
Motor controller list
>
RE-C600
made by Aquatech
RE-C600 :
Programmable motor controller for RP-HX, RP-TX, RP-QⅡB/C and RP-QⅢB/C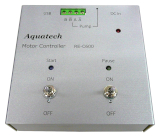 Stepper motor controller for RP-HX, RP-TX, RP-QⅡB/C and RP-QⅢB/C series
Only one pump can be connected to the RE-C600.
Various pump operation sequences can be programmed using a PC connected to the RE-C600.
The pump can be stopped at a specified number of revolutions up to 30 revolutions, and a fixed discharge volume can be performed at a specified multiple of the discharge volume per revolution.
(Discharge volume data for one rotation is attached to the pump)
The program data of the operation sequence can be saved in RE-C600 and the pump can be operated without connecting to the PC.
Both with and without connector of motor wiring can be used.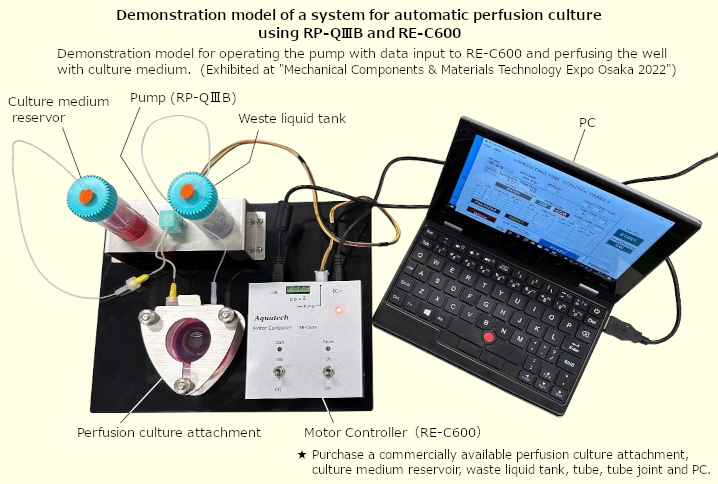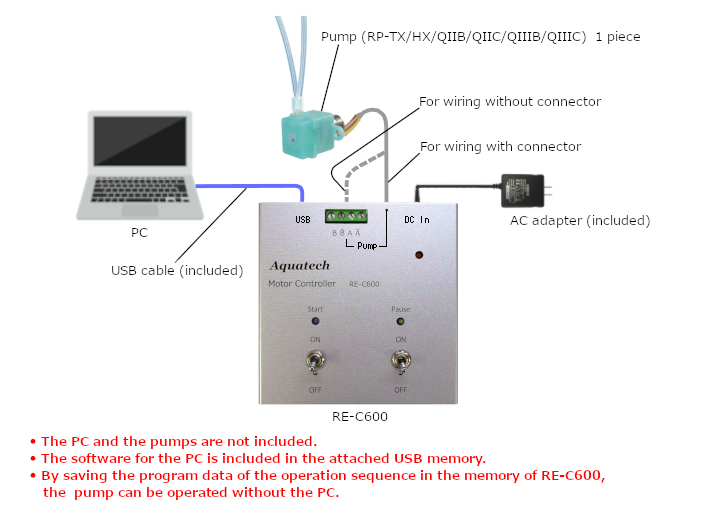 Name
Motor controller
Model No.
RE-C600
Applicable pumps
RP-HX series, RP-TX series
RP-QⅡB/QⅡC, RP-QⅢB/QⅢC
Power source
DC5V 1A (AC adapter included)
Driving method
Bipolar constant voltage
Excitation mode
1/4 micro-step driving
Motor driving
voltage
RP-QⅡB/QⅡC, RP-QⅢB/QⅢC : 3.0V
RP-HX, RP-TX : 2.6V
Dimensions
100 x 100 x 34 mm
Accessories
AC adapter (Input : AC100-240V 50/60Hz, Output : DC5V 1A),
USB memory stick (Computer software), USB cable (for PC connection)