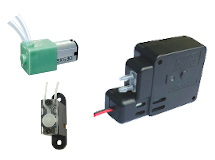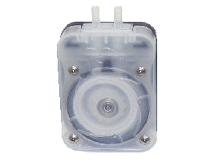 "Aquatech Co., Ltd." develops, manufactures and sells the original tube pump "Ring Pump".
With the aim of "contributing to society by creating a flow", we provide Ring Pumps that can be used in a variety of situations using our unique technology.
This website introduces information about Ring Pump and our product lineup.
❊"Ring Pump" is a registered trademark of our company.

Feb. 1, 2023

Model added to RP-WII series
Added model RP-WII04F-700Z-DC24V with discharge rate of 700mL/min to RP-WII series.


---

Dec. 28, 2022

Publish web page for smartphones
We have released a web page suitable for browsing on smartphones.
When you access this homepage on your smartphone, it will automatically switch.


---

Oct. 3, 2022

NEW Product information;
Motor controller RE-C600



 • Stepper motor controller for 1 piece of RP-TX, HX, RP-QⅡB/C, and RP-QⅢB/C series
 • Various pump operation can be controlled by a computer connected to RE-C600.
 • The pump can be stopped at specified number of revolutions, supporting fixed discharge.

---

Sep. 1, 2022

NEW Product information;
RP-QⅡB/C, QⅢB/C series with stepper motor



The model using a stepper motor has been added to the popular micro pump RP-QⅡ/QⅢ series.
It is possible to control the discharge rate more finely than ever before.

---

Sep. 1, 2022

NEW Product information;
Motor controller RE-C500/C501



 • Stepper motor controller for RP-HX, RP-TX, RP-QⅡB/C, RP-QⅢB/C series
 • Various pump operation can be controlled by a computer connected to RE-C500.
 • RE-C500 can control 6 pumps individually.
  Furthermore, up to 12 pumps can be controlled by adding one RE-C501.

---

Sep. 1, 2022

NEW Product information;
Constant discharge pump system; RE-C300-H/HⅡ/M/KⅡ



 • A constant discharge pump system is realized by the pump using a DC motor with an encoder
  and the motor controller RE-C300 that accurately stops the rotation of the motor at an integral
  multiple of one rotation.
 • We offer the following 4 series of pumps.
RP-H···DC24VE, RP-HⅡ···DC24VE, RP-M···DC24VE, RP-KⅡ···D24VE


---