Introducing motor controllers for RP-HX / TX.
(Links to detailed information on each model.)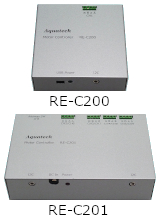 Stepper motor controller dedicated to RP-HX and RP-TX.
You can control various pump operations with a connected PC.
Pump operation sequence is also programmable.
You can control one pump with RE-C200.
Up to 9 pumps can be controlled by adding 2 RE-C201s to the RE-C200.
Up to 5 pumps if one RE-C201 is added.


---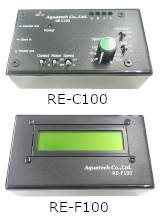 RE-C100 is the stepper motor controller for RP-HX and RP-TX series.
Start/stop, rotational direction, and rotational speed of the pump can be controlled.
The motor drive method is 1/4 or 1/8 micro-step drive method. (switchable)
Two pumps of RP-HX or RP-TX can be connected. (Two pumps are the same operation.)
The number of operating pumps can be increased by the series connection of one RE-C100 for master and one or several RE-C100 for slave. (All pumps are same operation.)
RE-C100 can control start/stop and rotation speed of the pump by pulse signals from an external source.


---